[fullwidth background_color="" background_image="" background_parallax="none" enable_mobile="no" parallax_speed="0.3″ background_repeat="no-repeat" background_position="left top" video_url="" video_aspect_ratio="16:9″ video_webm="" video_mp4="" video_ogv="" video_preview_image="" overlay_color="" overlay_opacity="0.5″ video_mute="yes" video_loop="yes" fade="no" border_size="0px" border_color="" border_style="solid" padding_top="20″ padding_bottom="20″ padding_left="" padding_right="" hundred_percent="no" equal_height_columns="no" hide_on_mobile="no" menu_anchor="" class="tt-accordion-content-container" id="wer-wir-sind-content"][one_third last="no" spacing="yes" center_content="no" hide_on_mobile="no" background_color="" background_image="" background_repeat="no-repeat" background_position="left top" hover_type="none" link="" border_position="all" border_size="0px" border_color="" border_style="" padding="" margin_top="" margin_bottom="" animation_type="" animation_direction="" animation_speed="0.1″ animation_offset="" class="" id=""][imageframe lightbox="no" gallery_id="" lightbox_image="" style_type="none" hover_type="none" bordercolor="" bordersize="0px" borderradius="0″ stylecolor="" align="right" link="" linktarget="_self" animation_type="0″ animation_direction="down" animation_speed="0.1″ animation_offset="" hide_on_mobile="no" class="" id=""]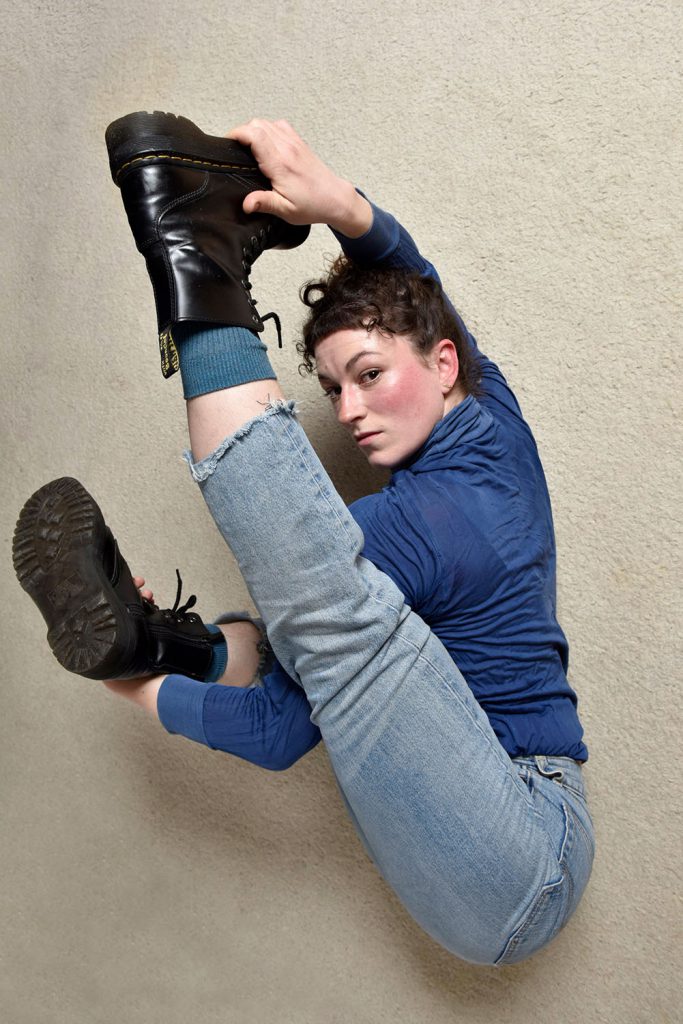 [/imageframe][/one_third][two_third last="yes" spacing="yes" center_content="no" hide_on_mobile="no" background_color="" background_image="" background_repeat="no-repeat" background_position="left top" hover_type="none" link="" border_position="all" border_size="0px" border_color="" border_style="solid" padding="" margin_top="" margin_bottom="" animation_type="0″ animation_direction="down" animation_speed="0.1″ animation_offset="" class="" id=""][fusion_text]
Johanna Jörns begann ihr Training mit Geräte- und Bodenturnen und erhielt ihre Ausbildung zur zeitgenössischen Bühnentänzerin an der Etage- School for Performance and Fine Arts in Berlin. Sie setzte ihr Studium an der Universität der Künste und der TanzTangente Berlin fort. 2015 absolvierte sie den Zertifikatskurs 'Creating Dance in Art and Education'  mit dem Fokus auf choreografischer Arbeit mit Laien.
Sie nimmt regelmäßig an Meisterkursen in den Bereichen Akrobatik, Partnering, zeitgenössischem Tanz teil und trainiert in der Movement – und Parcours-Community mit dem Fokus auf Bodenakrobatik, Partnerarbeit, bouldering und Mobilitäts/ Agilitätstraining.
Als Tänzerin arbeitet Johanna mit verschiedenen Choreograf:innen in Deutschland und international zusammen (u.a. Freddie Houndekindo, Nadja Raszewski, Evangelos Poulinas, Jara Serrano) und kreiert eigene Stücke in Zusammenarbeit mit verschiedenen Künstler:innen.
Als Choreografin und Tanzvermittlerin arbeitet sie mit der Universität der Künste Berlin, der Kunsthochschule Weißensee Berlin und dem PURPLE – Internationales Tanzfestival für junges Publikum zusammen. 2016 arbeitete sie als Choreografin in der interdisziplinären Produktion "Neuland" in der Tischlerei der Deutschen Oper Berlin. Als Mitglied bei SuB Kultur e.V. realisiert sie interdisziplinäre Tanzprojekte in Schulen, Museen, Gemeinschaftsunterkünften und Theatern mit Kindern, Jugendlichen und Erwachsenen. Seit 2015 arbeitet sie im Rahmen von moving bars  als Tanzvermittlerin in Justizvollzugsanstalten. 2021 forschte sie zum Umgang mit Rollenbildern in der tanzkünstlerischen Arbeit im Rahmen eines Dis-Tanzen Recherche Stipendiums aus Mitteln des Bundes. Seit 2015 choreografiert sie regelmäßig die Jugendcompany CeWe24. Sechs abendfüllende Produktionen sind seitdem entstanden und waren deutschlandweit auf Festivals zu sehen. Ihre kollaborative Arbeit through walls mit Camilla Przystawski wurde zum 7. Tanztreffen der Jugend der Berliner Festspiele eingeladen.
In ihrem Unterricht nutzt Johanna die Kraft der Kreativität und Verspieltheit, um einen Raum zu kreieren, in dem sich Menschen angstfrei und technisch versiert bewegen lernen.
Kurse in unserer Tanzschule: Tanzakrobatik, Kreativer Kindertanz, Young Modern Dance, Jugendcompany CeWe24[/fusion_text][/two_third][one_third last="no" spacing="yes" center_content="no" hide_on_mobile="no" background_color="" background_image="" background_repeat="no-repeat" background_position="left top" hover_type="none" link="" border_position="all" border_size="0px" border_color="" border_style="" padding="" margin_top="" margin_bottom="" animation_type="" animation_direction="" animation_speed="0.1″ animation_offset="" class="" id=""][title size="1″ content_align="left" style_type="default" sep_color="" margin_top="" margin_bottom="" class="" id=""]Produktion[/title][/one_third][two_third last="yes" spacing="yes" center_content="no" hide_on_mobile="no" background_color="" background_image="" background_repeat="no-repeat" background_position="left top" hover_type="none" link="" border_position="all" border_size="0px" border_color="" border_style="" padding="" margin_top="" margin_bottom="" animation_type="" animation_direction="" animation_speed="0.1″ animation_offset="" class="" id=""][fusion_text]Café MundO…in einer Gewitternacht (2017) morphing lines (2016), Remember me (2014/2015), Tarot (2014), personal landscapes (2013), Tangram – a journey into visions (2013)[/fusion_text][/two_third][one_third last="no" spacing="yes" center_content="no" hide_on_mobile="no" background_color="" background_image="" background_repeat="no-repeat" background_position="left top" hover_type="none" link="" border_position="all" border_size="0px" border_color="" border_style="" padding="" margin_top="" margin_bottom="" animation_type="" animation_direction="" animation_speed="0.1″ animation_offset="" class="" id=""][title size="1″ content_align="left" style_type="default" sep_color="" margin_top="" margin_bottom="" class="" id=""]Projekte[/title][/one_third][two_third last="yes" spacing="yes" center_content="no" hide_on_mobile="no" background_color="" background_image="" background_repeat="no-repeat" background_position="left top" hover_type="none" link="" border_position="all" border_size="0px" border_color="" border_style="" padding="" margin_top="" margin_bottom="" animation_type="" animation_direction="" animation_speed="0.1″ animation_offset="" class="" id=""][fusion_text]happy endings (2022) Unlock (2021) trough walls (2020) 2099 (2019) Crossover (2018) HisStory (2018)  SOG (2018) fluent friction (2017) from the ashes (2016) UNG – Burning clouds on wet earth (2016) MOVING WOR(L)DS (2016) واحد DEUX ТРИ FYRA BEŞ ШЕСТ SIEBEN (2015) Der Alice Effect (2015) Fantasia meets Neukölln (2015) 100 Jahre Zeppelin – der Traum vom Fliegen (2015) Wenn Fuchur mit der Käthe tanzt (2013) Personal Landscapes (2013)  [/fusion_text][/two_third][/fullwidth]