DANCE IMPROVISATION & PARTNERING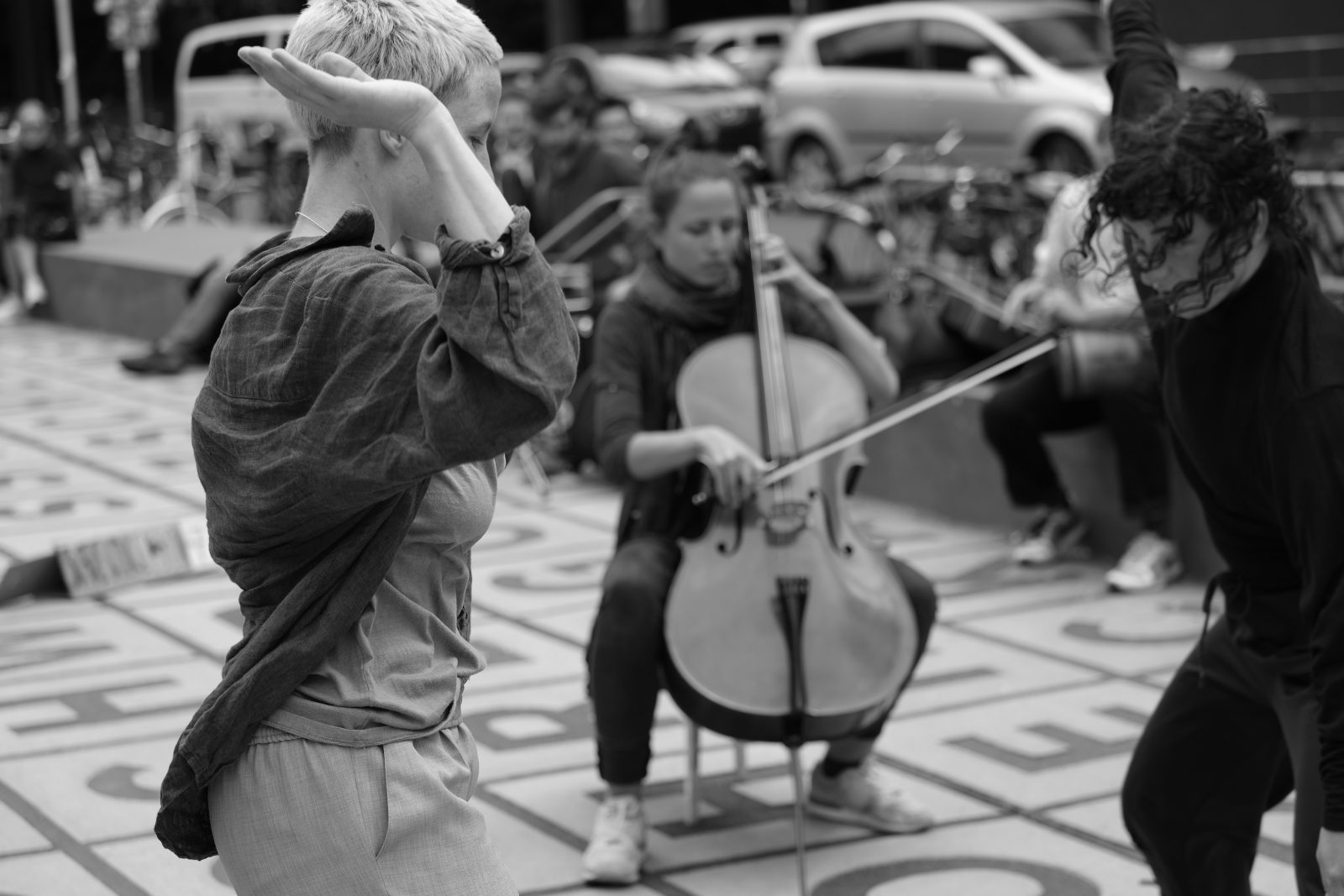 a collaborative Workshop with Sunia Asbach & Johanna Jörns
22.- 24.5.2023,  10- 2 pm
Costs: 180 € / reduced 150 € / Early bird (bis 10.5.): 130 €
The focus of this workshop lies in the search for playful, curious and reactive bodies in order to explore new movement pathways and to expand the individual movement repertoire.
Based on imagination, concrete sequences and movement principles we will develop scores that lead us into guided improvisations, alone, together with a partner as well as in the whole group.
We will use tools and partner work in order to create unpredictable yet playful impacts that allows us to widen our movement language and to find new sensory perception and qualities in our bodies.
We will explore how to move effortlessly from the floor up into the air, how to give and to carry weight and how to use these experiences for our own individual movement research and creative process. The explorative tasks are open for individual interpretations which allows a participation of both professional and experienced dancers as well as curious movers from all fields.
Johanna Jörns is a contemporary dancer, choreographer and teacher based in Berlin. Her movement language is strongly shaped by partnering techniques, soft acrobatics and the movement culture scene, that investigates the interplay of various practises such as martial arts, dance, parcours and imagination.
She has been leading workshops for people of all ages, professional as well as non-professional dancers in various contexts (i.a. Kunsthochschule Weißensee, Berlin; Hochschule für Musik Franz Liszt, Weimar; Universitiy of the Arts, Berlin; Rampenlichter Festival, München).
She is currently holding a scholarship from Dis-Tanzen Solo, in which she is researching on collaborative workshop formats on the interface of dance, movement culture and artistic creation.
In October 2023 she will start the two-year Master's programme in Choreography at the Interuniversity center for dance Berlin.
Sunia Asbach works in the field of contemporary dance as a teacher, performer, creator and choreographer. She is based in Berlin and studied dance and dance pedagogics in Berlin, Barcelona and Vienna. Since 2016 she teaches in various formats, with a multitude of institutions (e.g. elementary schools, kindergartens, TanzTangente, SENECA INTENSIV, Berlin Mondiale, Theater an der Parkaue, KW – Institute for Contemporary Art Berlin) and provides a space for all kinds of audiences and participants. As a dancer she collaborates with artists from different disciplines and performs regularly. Her own artistic work is mainly driven by the urge to question conformity and societal phenomenon. For the ongoing research with her artistic character ARNE she received a take care scholarship by Fonds Darstellende Kunst in 2021 and was invited to Lake Studios in 2022 for Made in Berlin – Residency. More information: www.suniaasbach.art
Anmeldung unter info@tanztangente.de oder 030 43 777 864